A molded case Circuit Breaker, abbreviated MCCB, is a type of electrical protection device that can be used for a wide range of voltages, and frequencies of both 50 Hz and 60 Hz. The main distinctions between molded-case and Miniature Circuit Breaker are that the MCCB can have current ratings of up to 2,500 amperes, and its trip settings are normally adjustable. An additional difference is that MCCBs tend to be much larger than MCBs. As with most types of circuit breakers, an MCCB has three main functions:
Protection against overload – currents above the rated value that last longer than what is normal for the application.
Protection against electrical faults – During a fault such as a short circuit or line fault, there are extremely high currents that must be interrupted immediately.
Switching a circuit on and off – This is a less common function of circuit breakers, but they can be used for that purpose if there isn`t an adequate manual switch.
The wide range of current ratings available from molded-case circuit breakers allows them to be used in a wide variety of applications. MCCBs are available with current ratings that range from low values such as 15 amperes, to industrial ratings such as 2,500 amperes. This allows them to be used in both low-power and high-power applications.
KNM6 Series Moulded Case Circuit Breaker applies at the circuit of AC 50/60Hz,rated operation voltage of 600V(690V)and below, DC250V and below and rated current of from 12.5A up to 800A to distribute the electric power, and performs the low frequency of opening and closing under normal condition and the overload protection, short-circuit protection and under-voltage protection. The circuit breaker with a rated current of frame of 400A and below could also perform the low frequency of starting of the squirrel- cage motor and the protection in terms of operation breaking, and protect the motor in terms of overload, short circuit and under-voltage.
This product conforms to the requirement of IEC60947-2, GB14048.2 standards.
Molded Case Circuit Breaker
Small Size Molded Case Circuit Breaker
Electrical Molded Case Circuit Breaker
Automatic Molded Case Circuit Breaker
MCCB
Frame class

50

60

100

225

400

Pole No .

3

3

3

3

3

Rated current In(A)

5,10,15,20,
30,40,50

5,10,15,20,
30,40,50,60

15,20,30,40,
50,60,75,100

100,125,150,
175,200,225

250,300,
350,400

Rated voltage AC(V)

600

600

600

600

600

Rated voltage DC(V)

250

250

250

250

250

Rated insulation voltage(V)

690

690

690

690

690

Rated pulse voltage(KV)

6

6

6

6

6

Ultimate
short-circuit
breaking
capacity
lcu(KA)

AC
50/
60
Hz

220/240V

25

25

50

50

50

380V

14

14

25

25

42

415V

10

10

25

25

35

440/460V

10

10

25

25

35

440/500V

7.5

7.5

14

14

25

600V

5

5

10

10

22

DC

125V

10

10

20

20

30

250V

5

5

14

14

20

Operative short -circuit
breaking capacity Ics(Icu%)

50

50

50

50

100

Usage category

A

A

A

A

A

Mechanical life

8500

8500

8500

7000

4000

Electrical life

1500

1500

1500

1000

1000

Dimension(W×H×D)(mm)

75×130×60

75×130×60

95×155×60

105×165×60

140×257×113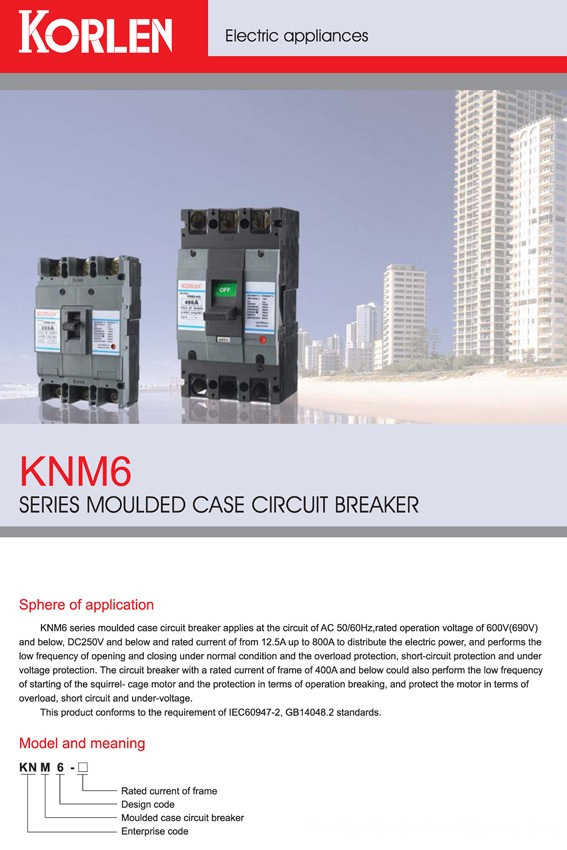 Wenzhou Korlen Electric Appliances Co., Ltd, It is a joint venture. My company is a manufacturer including design, development, produce and sale, professional producing MCB, MCCB, RCCB and AC Contactor etc. Product enterprises. The company owns import and export power of self-run, expanding Europe and America, Middle East, Southeast Asia etc. Market, set a good Public praise.
The company have more than 1500 workers, including senior engineer among them, engineer at inside of more than 100 technician. And then set up to cover area more than 50 acres, construct area is more than 38000 square meters of the modern industrial zone, providing with the forerunner's standard laboratory and various examination equipments.
Under Korlen people to make great effort unremittingly, designed and developed by oneself, develop and produce the series of MCB, RCCB filled up local blank, attain inter-national advanced level, and acquire more than 20 national patents. The company acquires "30 strong eminent enterprises, top ten of export income, yueqing star class enterprise, attach importance to contract and keeps promise" title of honor for many times past years. Company still the initiative pass ISO 9001 management system verification and 14001 environments management system verification. Our product passed quality verification of domestic and international authority organization like the CB\ SEMKO\ NF\ SIRIM\ SNI\ CE \PCT\ TSE, In the meantime high breaking capacity breaker of our company in this city is the unique product which got " Yueqing famous brand product" by Yueqing people government.
Korlen Electric Appliances is willing to make friends with social public, the world outside businessman join hands together for prosperous society and development to build a brighter future.
Looking for ideal 600V MCCB CE Manufacturer & supplier ? We have a wide selection at great prices to help you get creative. All the KNM6 600V MCCB CE are quality guaranteed. We are China Origin Factory of 600V MCCB CE KNM6. If you have any question, please feel free to contact us.
Product Categories : Molded Case Circuit Breaker > KNM6 Series Moulded Case Circuit Breaker