Sphere of application
KNM5 series moulded case Circuit Breaker the rated insulation voltage of the circuit breaker is up to 1000V. It is suitable for AC 50Hz, rated
working voltage to 690V, rated working current 10A to 800A in the distribution network circuit, used to distribute power and protect the line and
power equipment from overload, short circuit, ow Damage to voltage and other faults. At the same time, it can also be used as the initial infrequent
start of the motor and overload, short circuit and under voltage protection. The circuit breaker has the characteristics of small size, high breaking, short arcing, etc., and is an ideal product for users. The circuit breaker
is installed vertically (ie, it is installed vertically, and the class can be installed horizontally horizontally This product complies with EC60947-2, GB14048.2 and other standard
Molded Case Circuit Breaker
Small Size Molded Case Circuit Breaker
Electrical Molded Case Circuit Breaker
Automatic Molded Case Circuit Breaker
MCCB
No.

Testing current name

I/In

Assumed time

Starting situation

1

Assumed untripping current

1.05

2h(In>63A),

1h(In≤63A)

Cold state

2

Assumed tripping current

1.30

2h(In>63A),

1h(In≤63A)

Start right after the number 1 test
Type
Frame
Rated
Rated
working
voltage
(V)
Rated
nsulation
voltage
Rated limiting
short-circuit
breaking
ability
KA400V
Rated
opearating
short-
ircuit breaker
ability KA
400V
Outline
Mount
ng
d
mension
dimens
ons
current
current
L
W
3Pi4P
H
AB

4-Φd
KNM1-63L
(6).1016,
25
18
135
78
73.5
KNM1-63M
40,50,63
50
35
135

78/103

81.5
KNM1-100L
35
18
150
92
68
(10).1620,
KNM1-100M

100
25,32,40,50,
AC40OV
690V
50
35
30129
Φ4.5
63,80100
KNM1-100H
85
50
KNM1-160L
35
22
165
107
86
KNM1-160M

160
100125,
AC40OV
690V
50
35
35 126
Φ4.5
140160
165

107/142
103
KNM1-160H
85
50
KNM1-225L
35
22
165
107
86
100125140
KNM1-225M
225

160180200
AC400V
690V
50
35
35 126
Φ4.5
KNM1-225H
85
50
KNM1-400L
42
35
257

150/198
105
44 194
Φ7
KNM1-400M

400

225250315
350,400
AC40OV
690V
65
50
257
50/98
05
KNM1-400H
100
65
KNM1-630L
42
35
270

182/240
110
58 200
Φ7
KNM1-630M

630

400500630
AC400V
690V
65
50
KNM1-630H
100
65
KNM1-800M
75
50
800

630700800
AC4OOV
690V
275

210
103
70 243
KNM1-800H 100 65
KNM5H
Frame class 125 160 250
Item model KNM5H-125 KNM5H-160 KNM5H-250
Rated current In(A)
10,16,20,32,40,50,
63,80,100,125
10,16,20,32,40,50,63,
80,100,125,140,160
100,125,140,16
200,225,2
Rated voltage
Rated insulation voltage
Ultimate short-circuit
breaking capacity AC40OV
(KA)Icu/lcs
Electrical life
Mechanical life
AC4OOV
AC1000V
AC40OV
AC1000V
AC40OV
AC1000V
35/25
70/50
85/50
6000
3000
3000
9000
7000
7000
2P
Outline dimensions 3P
(mm)
4P
2P
60-155-68
60-155-88
90-155-68
120-155-68
90-155-88
120-155-88
105-165-
140-165-
055
1.1
Weight(KG) 3P 065 12 17
4P 08 15 21
KNM5E
Frame class 160 250 630
Item model KNM5E-160 KNM5E-250 KNM5E-630
Rated current

In(A)
10,16,20,32,40,50.
100,125,140,160,180,
250,315,350,400,
63,80,100,125,140,160
200,225,250
Rated volt
ge
AC40OV
AC40OV
,
AC40OV
Rated insulation
voltage
AC1000V
AC1000V
AC1000V
Ultimate short-circuit
AC400V
70/50
85/50
85/50
breaking capacity
(KA)lcu/lcs
Electrical life
1500
1000
1000
Mechanical l
fe
7000
7000
4000
Outline dimensions
3P
90-155-88
105-165-88
140-257-103
(mm)
4P
120-155-88
140-165-88
185-257-103
Weight(KG)
3P
18
21
57
4P
23
26
75
KNM5LY
Frame class 125 160 250
Item model KNM5LY-125 KNM5LY-160 KNM5LY-250
10,16,20,32,40,50. 10,16,20,32,40,50,63, 100,125,140,160,
Rated current In(A) 63,80,100,125 80,100,125,140,160 180,200,225,250
Rated voltage AC40OV AC40OV AC40OV
Rated insulation voltage
Ultimate short-circuit
breaking,capacity AC40OV
(KA)lcu/lcs
Electrical life
Mechanical life
AC690V
AC690V
AC690V
35/25
70/50
85/50
6000
6000
3000
9000
9000
7000
Undelay
Rated residual
operationcurrent(IAn)
Delay
Undelay
Maxim breaking
ime(s) Delay(2lAn)
30,100,500(Adjustable)
30,100,500(Adjustable)
30,100,500(Adjustable)
100,300,500(Adjustable)
0.1
100,300,500(Adjustable)
0.1
100,300,500(Adjustable)
0.1
0.45,1.0,2.0(Adjustable)
0.45,1.0,2.0(Adjustable)
0.45,1.0.2.0(Adjustable)
2P
Outline dimensions 3P
(mm)
4P
50-130-68
75-130-68
60-155-68
90-155-88
105-165-88
100-130-68
120-155-88
140-165-88
2P
Weight(KG) 3P
4P
0.55
0.65
0.75
1.2 2.1
0.8
1.5 2.6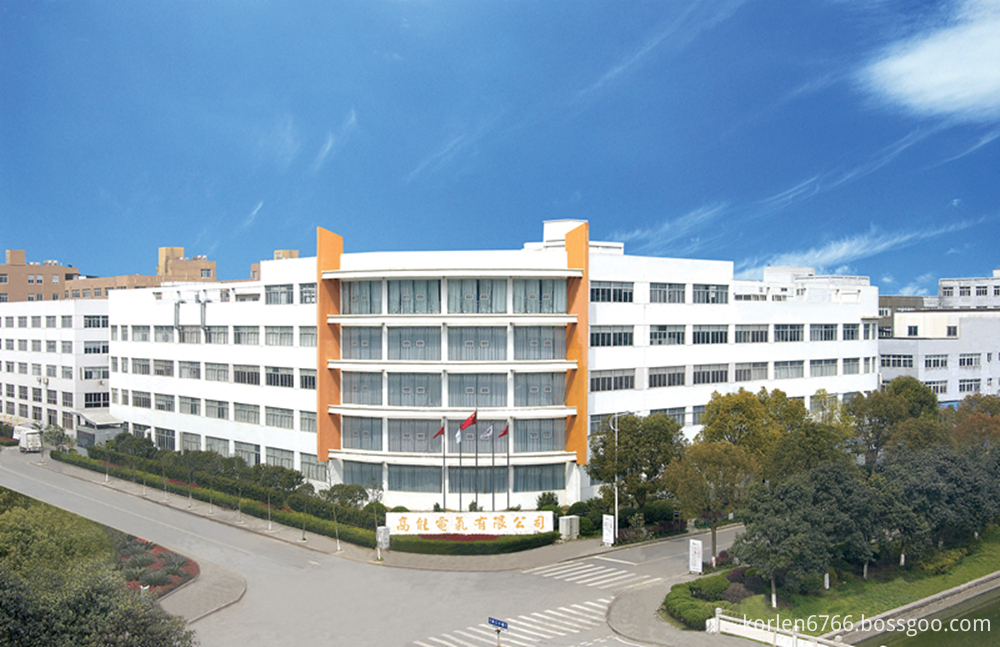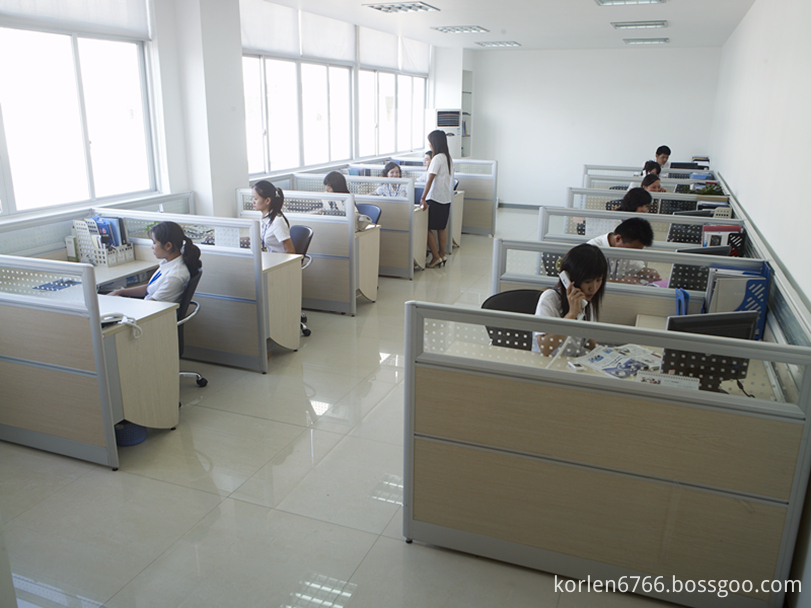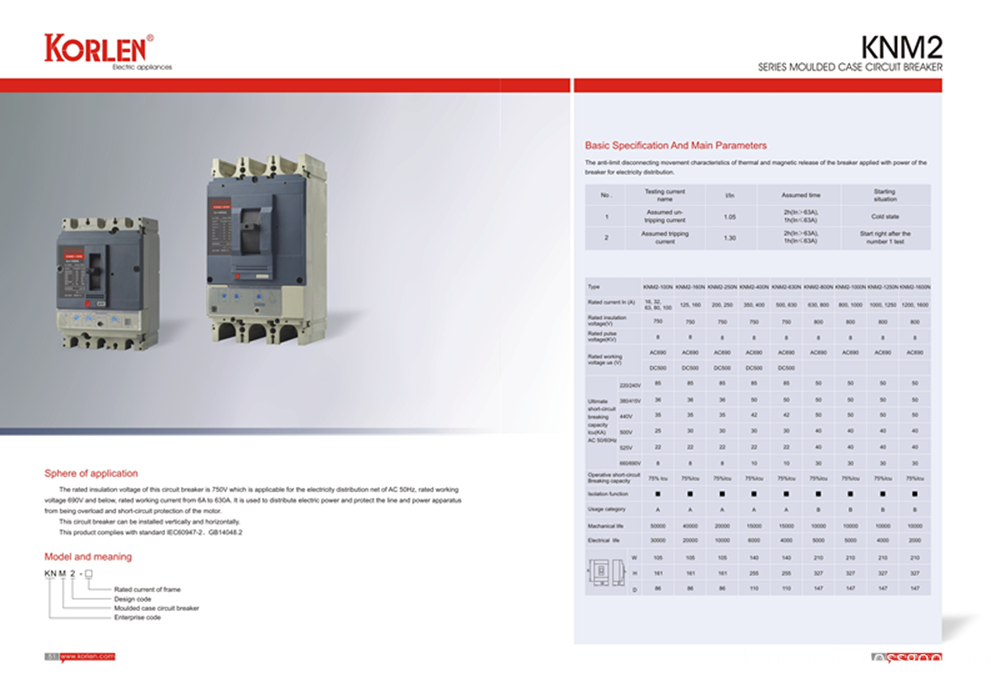 Production Capacity: we have more than 1500 workers and 100 expert engineers who can produce one container of our products in less than 5 days. Annual production is as follows; MCB 15 million poles, RCCB (thermal type) 2 million poles,( 58584299, 58584119, 58584025, 58583980, 58583777, 58583684, 58583534, 58583405,magnetic type) 800 thousand pole. Production of other products is also in the range of not less than thousands of poles annually.
Pricing: we offer the best price to meet the requirement of all customers depending on the quality and the number of quantity demanded.
Looking for ideal Moulded Case Circuit Breaker TUV 630A Manufacturer & supplier ? We have a wide selection at great prices to help you get creative. All the Moulded Case Circuit Breaker CE 160A are quality guaranteed. We are China Origin Factory of Moulded Case Circuit Breaker CE 125A. If you have any question, please feel free to contact us.
Product Categories : Molded Case Circuit Breaker > KNM5 Series Moulded Case Circuit Breaker